About
*About Smart Remodeling LLC*
(832) 800-8889
As one of the top Houston remodeling contractors, we have built our local family-owned business around our clients. Every service we develop is focused on providing the utmost in expertise and quality to the clients we serve. Smart Remodeling LLC has been providing the Houston area with whole home remodeling services for over ten years. We specialize in home renovations and remodels of all types including home remodeling, kitchen remodeling, bathroom remodeling, outdoor kitchens, and closet and patio cover and addition rooms.
*Our Mission*
We strive each day to provide the highest quality home remodeling services at the most budget-effective rates to the residents of the Houston area and all surrounding communities. We strive to complete every project to 100% client satisfaction. We back this with a 5-year guarantee on our work.
*Our Vision*
Dedicated to providing individualized service and expert products, our vision is to provide Houston area homeowners with the home of their dreams in all areas of remodeling, including aesthetics, function, and longevity of use.
*Our Values*
We are committed to ethical business practices, honesty in every interaction, and dependability throughout the project cycle. Our focus is on contributing to the well-being and safety of all our neighbors in Houston and the surrounding areas. We strive to keep within each client's vision and budget set for their project.
*Our Team*
We have built a team of expert craftspeople, managers, engineers, tradespeople, masters, designers, and project managers. Each Smart Remodeling LLC team member is highly trained and dedicated to providing our clients with the highest quality home improvement Houston, TX.
*Our Services*
We are turn-key Houston remodeling contractors for both residential and commercial clients providing a complete menu of renovation products and services. No matter your remodeling or building project, we can provide services to suit your requirements. You'll find home remodeling services for each of the following and more! Including Home Remodeling, kitchen remodeling, outdoor kitchen, bathroom remodeling, custom made closets, laundry room, patios and decks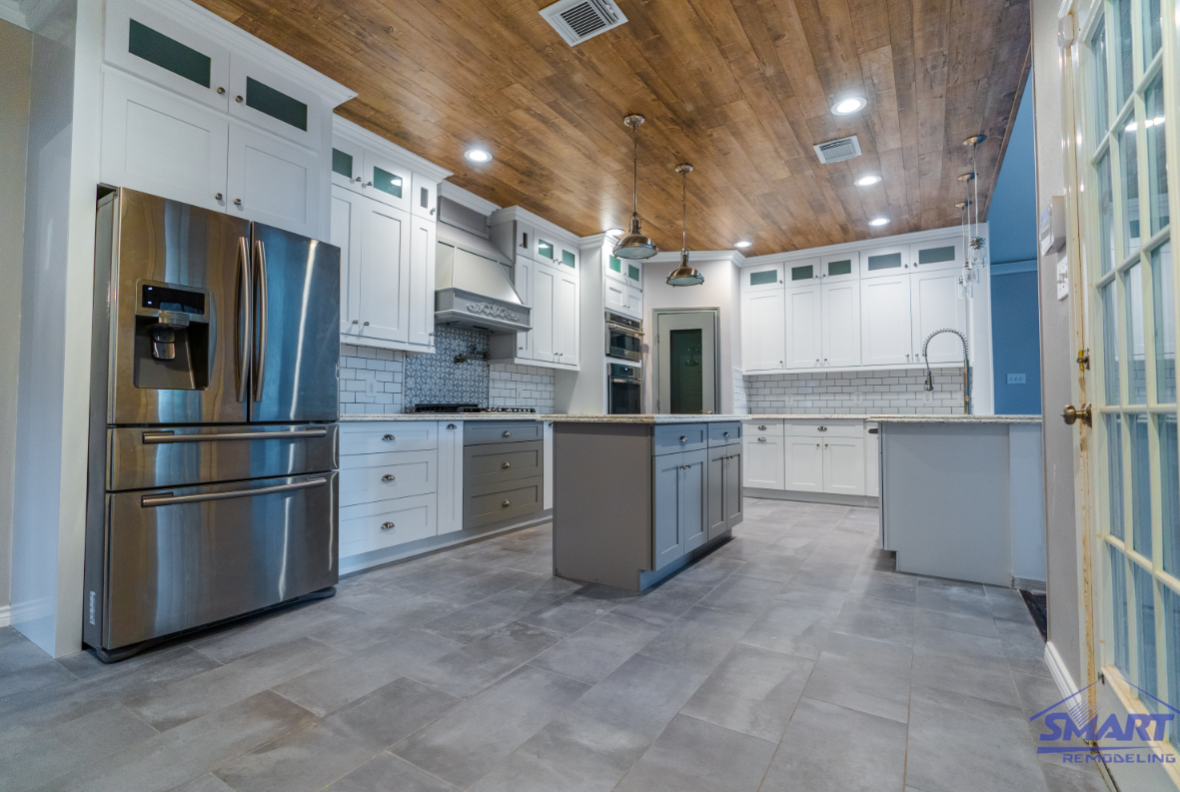 *Certified Dealers*
To provide the best remodeling services Houston has to offer; we have built an expansive portfolio of exciting products from top brands and manufacturers from which you can choose. You'll find all types of options in wood and tile flooring, wood and metal cabinets, granite, stone, marble, tile, and quartz countertops, vanities, sinks, faucets, glass, shower enclosures, hardware, locks, and more!
We are proud to be certified dealers of the following lines: Wolf, Kitchen Cabinet Distributors, Procraft Cabinetry, J&K Cabinetry, JSI Cabinetry, Durastone, QDI Surfaces, Vicostone, CMD Group, MSI, Earth Stone, Marazzi, Emser Tile, Daltile, Keystone Tile, Unicorn, Bausen, Naturesort, Interceramic, Roca, Hutcherson, SohoStudio, Bati Orient, B.B.W. Flooring, Knoasflooring, and more.
*Our Showroom*
Located conveniently at 12260 Gulf Fwy, Houston, Texas, our showroom provides an exciting array of samples, full lifestyle displays, and large product selection from our top brands including flooring, cabinetry, countertops, and more to inspire you in your remodeling project. You'll find products and designs to fit your budget. At this location, we also maintain offices for management and our team members. We also host in-showroom consultations with our experienced design staff to suit your schedule. The showroom is open Monday thru Saturday for your convenience.
*Contact Us*
As Houston remodeling contractors, Smart Remodeling LLC is here to help you bring your remodel or renovation to fruition. We guarantee our work to be of the highest quality to fit within your budget and requirements. Contact us today to schedule your no-pressure free in-home consultation!
One Call Does It All.